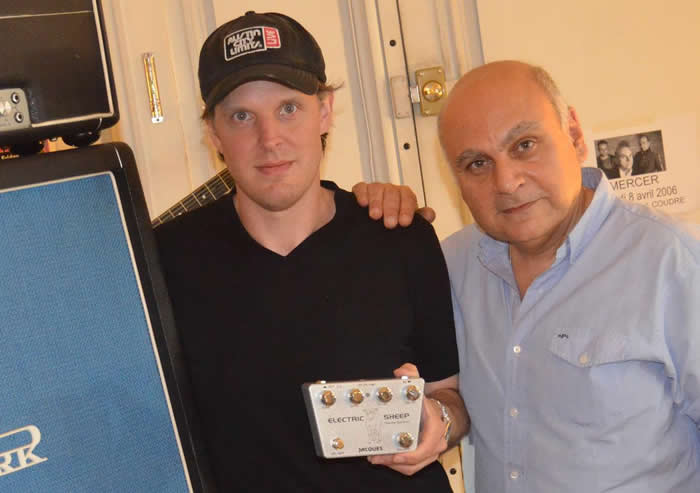 The first Electric Sheep endorser : Mr Joe Bonamassa !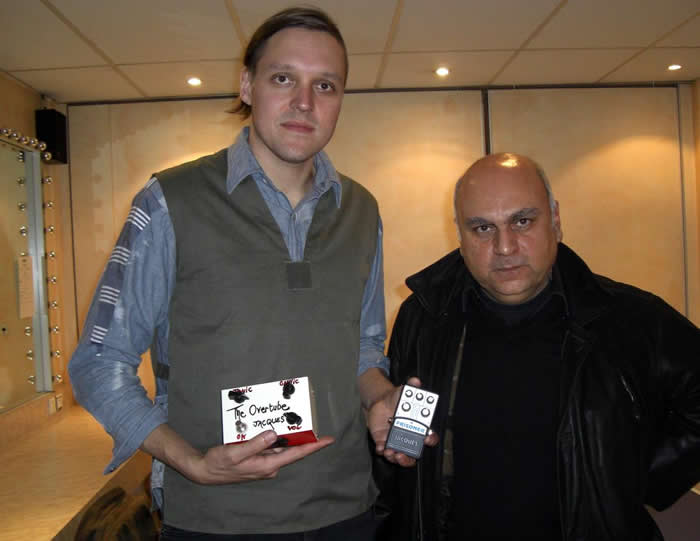 This is Win Butler of Arcade fire with his own handmade version of the Overtube and the incredible Prisoner analog delay. Win loves pedals and it's a great pride for me he adopted these very personal creations for his uncanny pedal board. A must-see : Arcade Fire video directed by genius Spike Jonze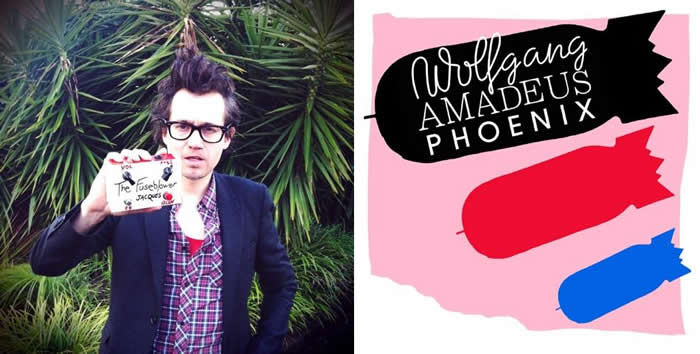 Phoenix is a Grammy Award winning French alternative rock band from Versailles, founded by Thomas Mars, Deck d'Arcy, Christian Mazzalai and Laurent Brancowitz.
For Laurent, aka Branco, I made this handmade Fuseblower with only French made components he uses along with the OVERTUBE overdrive for their great music.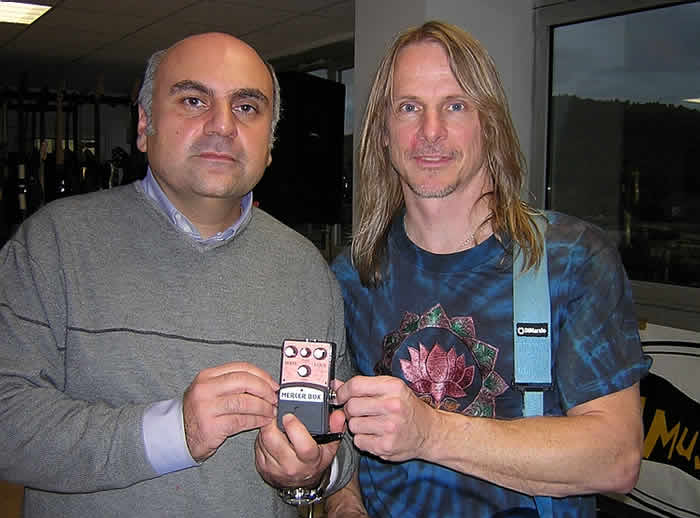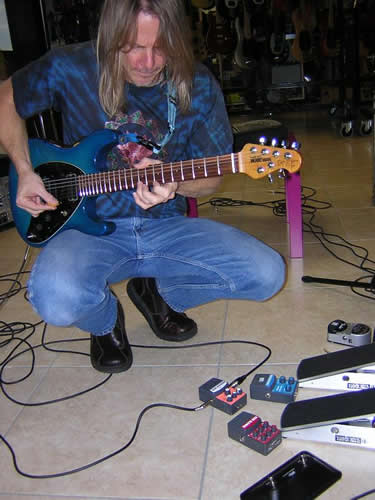 Yes, this is
Steve Morse
.
And he is holding a prototype
Mercer Box 2
, which he adopted right away and even asked me to autograph it.
I was very lucky to test the
MERCER BOX 2
with someone as experimented and talented as Steve Morse,
and I am now sure we have gone the right way in developing this uncanny pedal.
Of course, I loved this pedal before Steve tested it, but somehow the fact that he loves it himself too,
sort of confort me in my belief in the mighty
Mercer
.
Steve took a
FUSEBLOWER2
with him too, finding the comb interactions between the 3 BLOW engines worth deepest experimentation.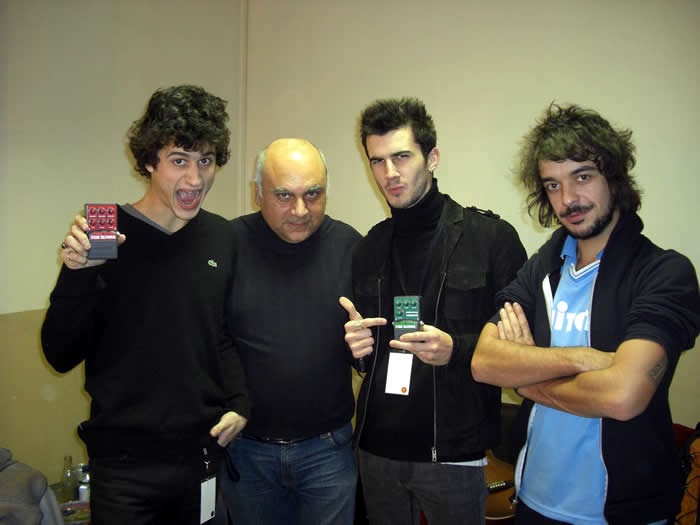 BB Brunes is a French pop rock band, part of the "new French rock scene" (la nouvelle scène rock française).
In 2009, the group won a Victoires de la musique in the category 'Group or artist stage révélation of the year'.
They now play the Tubeblower and the Fuseblower on stage.
On ne presente plus les BB Brunes ,qui a remporte les Victoires de la musique 2009 dans la catégorie Révélation scène de l'année au côté de Micky Green, Moriarty, Sefyu et The Dø.
La même année, leur chanson Cavalier Noir figure dans la BO française du film Twilight, chapitre II : Tentation, le deuxième volet de la saga Twilight écrite par Stephenie Meyer.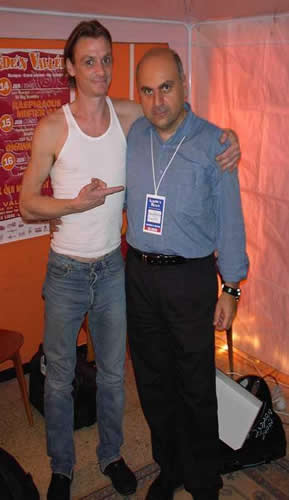 Marseille, France, June 14th 2002 : just the day after my 42nd birthday. Jacques meets Chris Whitley before an incredible concert, "Rocket house" tour. We talked for an hour, with no one to disturb us. Unforgettable.
For those who are not familiar with my pedals, Chris is the one and only inspirator of my distortion tone, my Fuse Blower pedal being a din-of-ecstasy-in-a-box, to make it short.
By his genius and modesty, Chris should be an inspiration for all guitarists/composers in the world.
Reeves Gabrels and I, even if we never met, consider "Din of ecstasy" as THE desert island record.
Now Chris owns my complete line of pedals, and I am waiting for his feedback during summer.
I thank him again for his warm, warm welcome and for having spent so much time with me, despite his tight schedule.
P.S.: note in the bottom right corner, my favorite '70s black strat body now handwritten by Chris : "No one nowhere", words taken from "Narcotic prayer", what else ?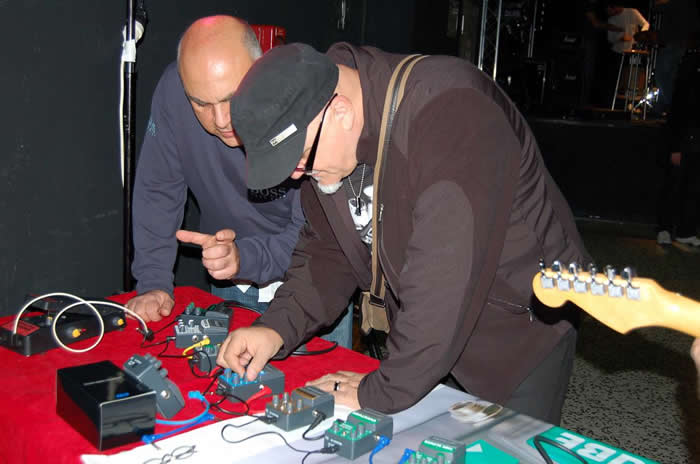 Tech talk with Frank Gambale Australian jazz fusion guitarist. He has released eleven studio albums over a period of more than two decades, and is renowned for his use of the sweep picking and economy picking techniques.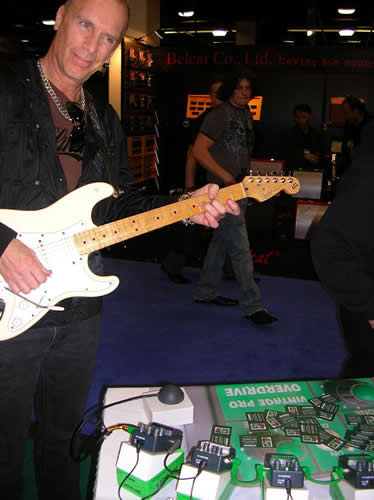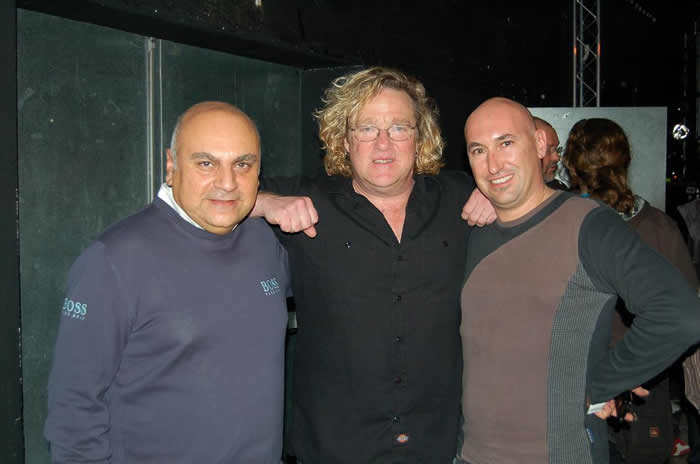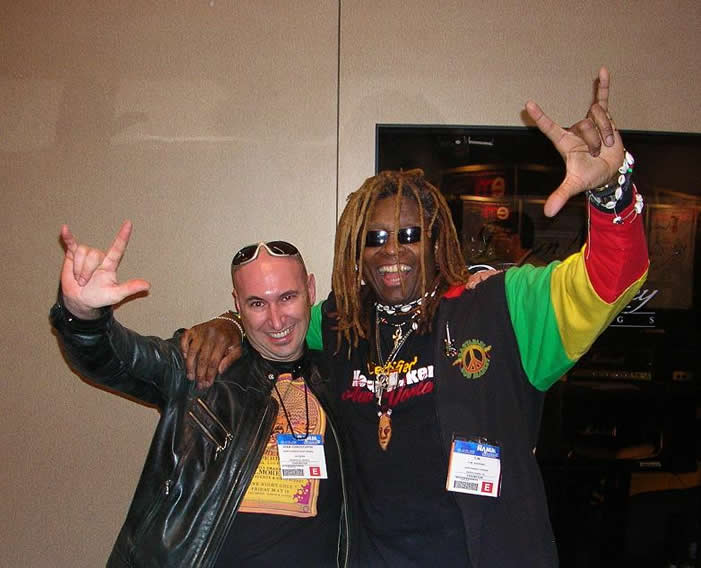 The bass player corner with our friend Billy Sheehan, the great Stuart Hamm and T.M. Stevens who was given a tubeblower especially for a powerful zulu bass line.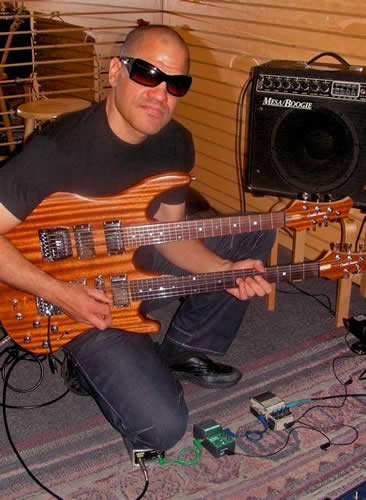 David "Fuze" Fiuczynski is a long time friend of Jacques pedals. I still consider his rendition of Pat Metheny 'Bright size life' as one of my fave guitar track ever.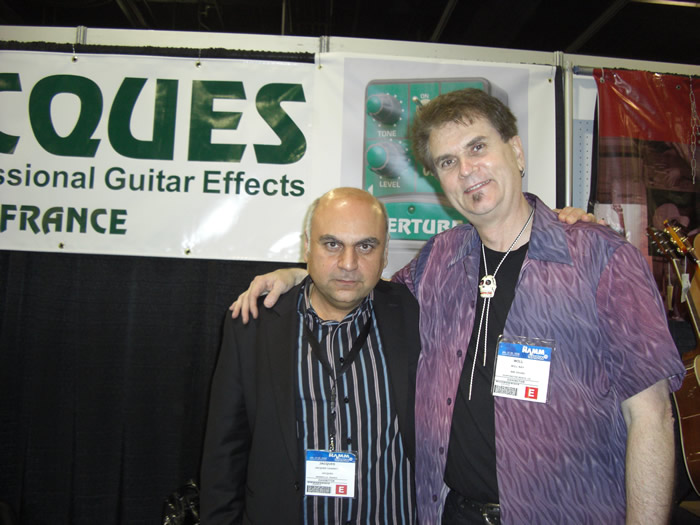 Jacques here with Will Ray a long-time American session guitarist and current member of the Hellecasters. Big guy .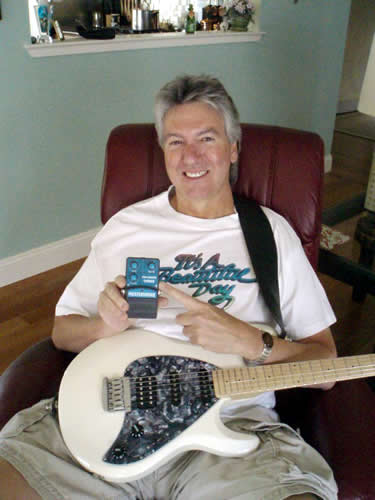 Rob Espinosa from 'It's a Beautiful Day', band formed in San Francisco, California in 1967, the brainchild of violinist David LaFlamme.It's a Beautiful Day reunited in 1997 . Band members are LaFlamme's current wife, Linda Baker LaFlamme (vocals), Toby Gray (basses and producer), Gary Thomas (keyboards and producer), Rob Espinosa (guitars), and Michael Prichard (percussion). They continue performing today, with LaFlamme contributing to Jefferson Starship's 2008 release, Jefferson's Tree of Liberty. This lineup is the longest continual band that has ever performed the IABD material.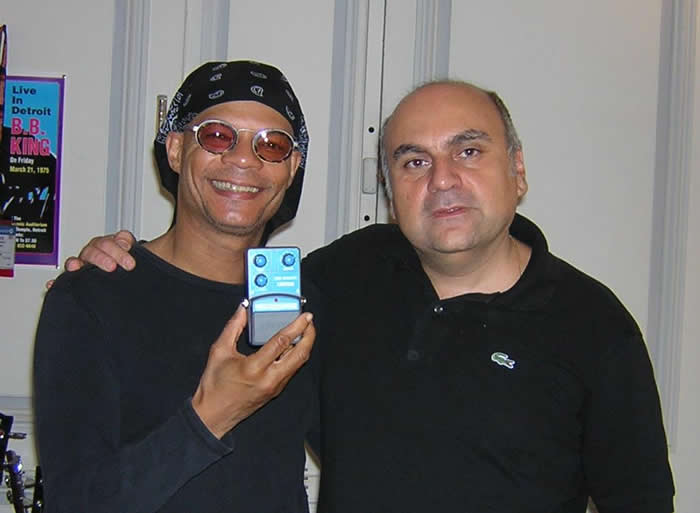 My friend and incredible bass player and composer Fernando Saunders in my vintage shop. He uses my Meistersinger for aerial bass lines only him can render this way.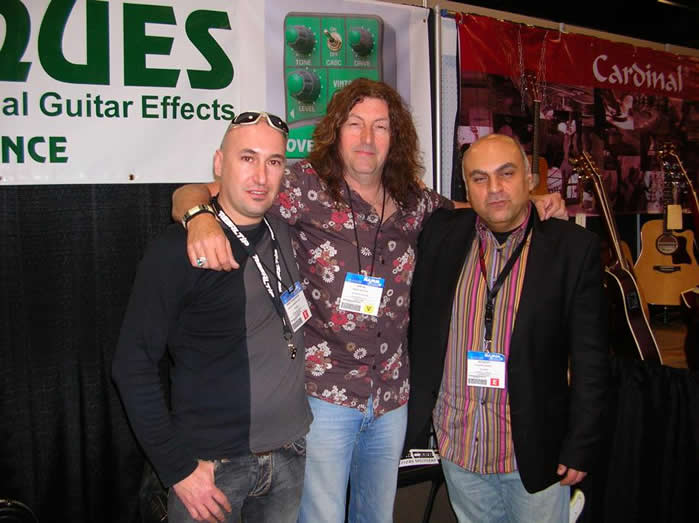 Our friend Gwyn Asheton plays the Tubeblower for its famous blues rock.
In 2001, French Guitar Part Magazine voted Gwyn Ashton third best guitarist of the year, beaten by Jeff Beck and Gary Moore.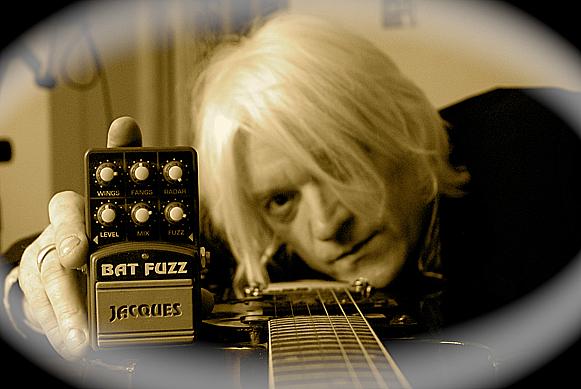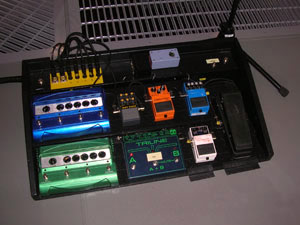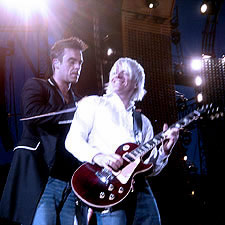 Neil Taylor played guitar with Tears For Fears on the album "Songs From The Big Chair" including the famous one take guitar solo on "Everybody Wants To Rule The World". Neil's involvement with Tears continued and he played on two world tours and the band's third album "Seeds Of Love".
During his career he has recorded and toured with : Natalie Imbruglia, Peter Gabriel, Rod Stewart, Morrissey, Tina Turner, The Pretenders, Van Morrison, Holly Johnson, Paul Young, Climie Fisher…
In 2001 Neil played on Robbie Williams album "Sing When You´re Winning" and Natalie Imbruglia's "White Lillies Island".
After finishing touring with Natalie, Neil played guitar on Robbie Williams album "Escapology" where he was asked to join Rob's band ! He has been with him ever since, and is currently the 'Close Encounters' World Tour promoting Rob's album "Intensive Care". And Neil plays a BATUZZ !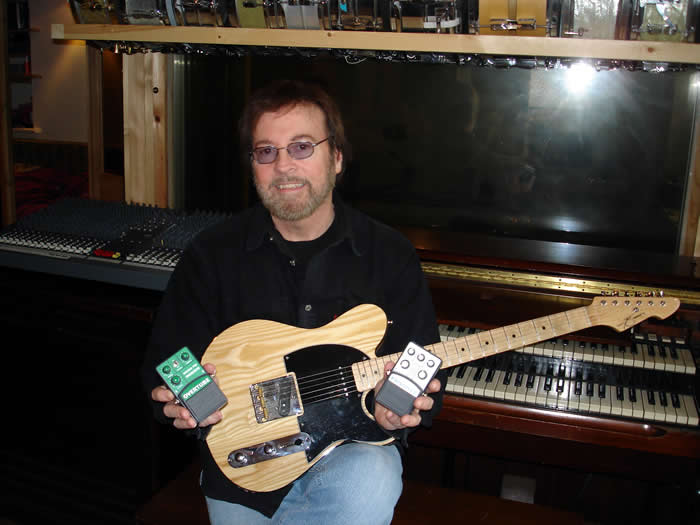 What about Wikipedia to tell us about Jerry Donahue : Jerry is a guitarist who has played for Poet And The One Man Band, Fotheringay, Fairport Convention, Joan Armatrading and more recently, The Yardbirds and the Hellecasters. His father was big band saxophonist Sam Donahue. Jerry is a technical master, and a hallmark of his musical vocabulary is the technique of string "bending". In fact, Telecaster player Danny Gatton praised Donahue as "the string-bending king of the planet." Jerry has released instructional videotapes, and more recently has produced solo projects including Sandy Denny's "Gold Dust, Live at the Royalty" (May 1998), and the The Animals' "Instinct" (2004).
But there's one thing missing : Jerry plays a PRISONER delay.
.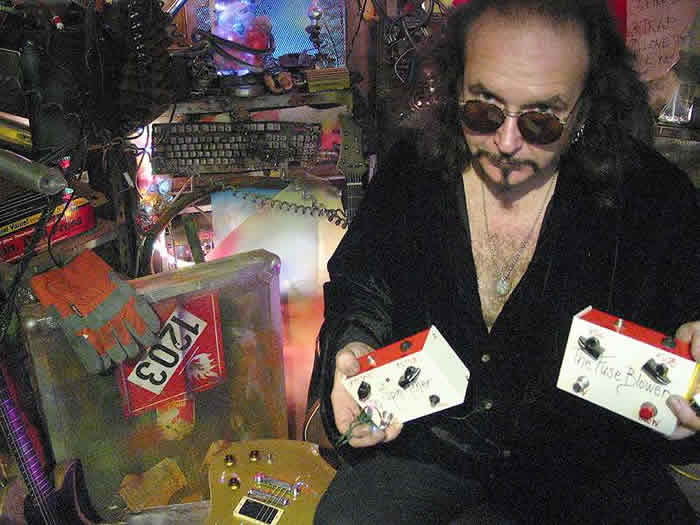 Since its TIN MACHINE adventures, Reeves Gabrels has always been one of my fave guitar hero because it is so rare that virtuosity can rhyme with originality and invention. Besides, Reeves and I sort of share the same sense of humor, which makes our email correspondence a real pleasure. I am really delighted and honoured Reeves uses a FUSEBLOWER on a regular basis, and at his famous gigs at the L.A. Baked Potatoes.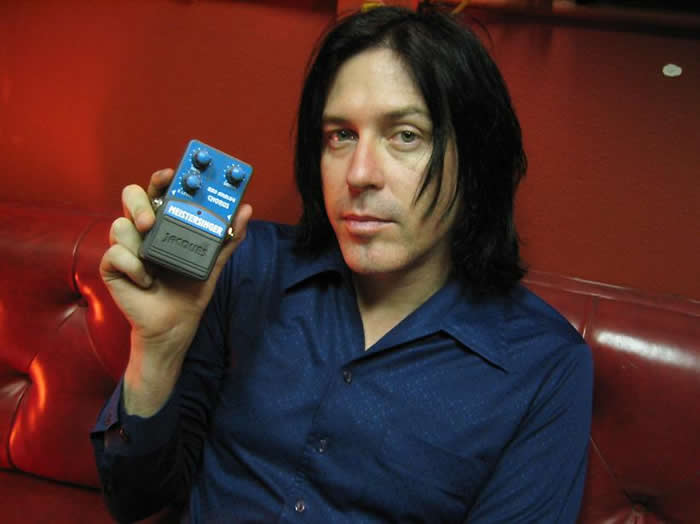 The MEISTER with Troy Van Leeuwen of Queen of The Stone Age, a perfect match with such a star in the sky of heavy-rock-guitarists. QOTSA is such a great band in my fave genre and considered by many as the heavy rock future leader band. Dropping names : Legend Dave Grohl played drums of their last LP 'Song for the Deaf', Troy played guitar on Limp Bizkit best album 2001 'New old songs', and Troy appears on A Perfect Circle's upcoming September release.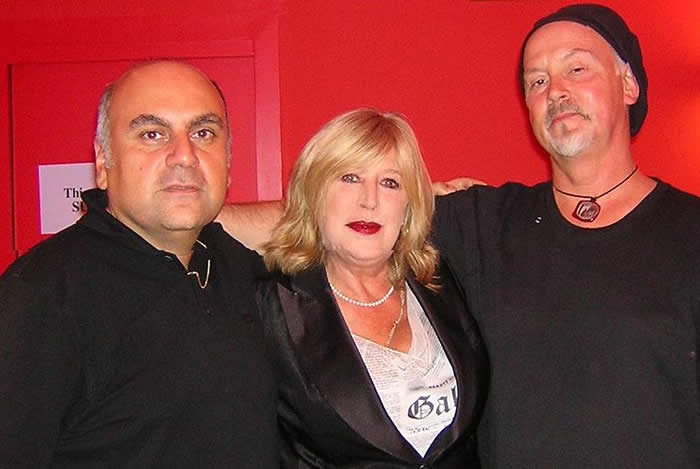 Rock icon and, most of all, one of the best singer ever, Marianne Faithfull really gives to this page an incredible dimension.
She was so kind to take some time for me, and gives me the unique occasion to breath in some of the legendary 60's air.
Barry Reynolds' long and distinguished career as songwriter, producer and guitarist at the edgier end of music started in the late sixties and includes work with Grace Jones, John Martyn, Joe Cocker, Bette Midler, Toots & The Maytals and Black Uhuru.
His work in the studio and on the road with Marianne Faithfull spans 20 years… and he is now playing a Tubeblower !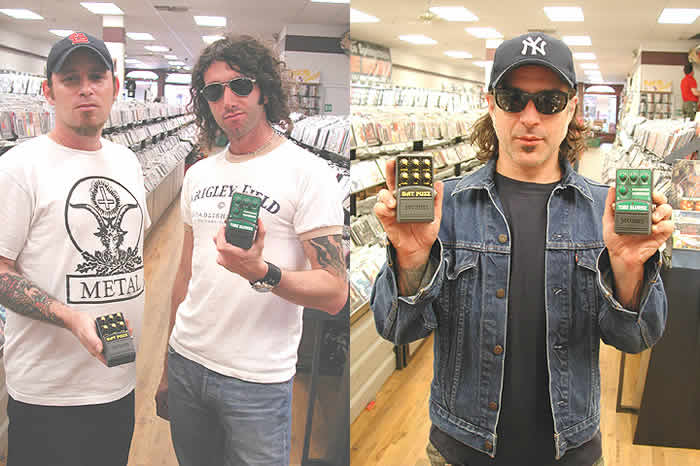 The first one is of Jim Baglino and Lee Stuart of Halfway to Gone(Small Stone Recs),Gallery of Mites(Meteor City recs) and A Thousand Knives of Fire(Small Stone). Jim plays Bass in Monster Magnet, the Ribeye Bros (Meteor City) and Lord Sterling (Small Stone). He was also a member of Human Remains (Relapse recs). Jim is the guy with the sunglasses and the cocky attitude.
The other shot is of Phil Caivano. He plays guitar in Monster Magnet, Gallery of Mites and was a member Blitzspear.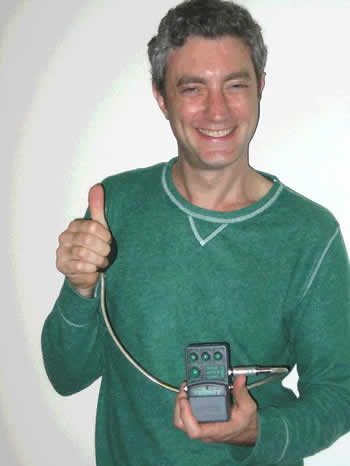 My TRINITY triple wah pedal is so funky that it had to be Avi Bortnick's best friend. You may know Avi because he is John Scofield rhythm guitarist but make sure to go to his website and listen to his own creations. His very personnal use of filter effect on Diabolus solo (Clean state CD) is so groundbreaking that I wonder what he will come up with the TRINITY….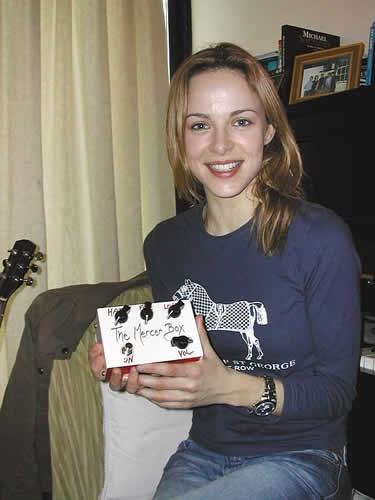 Gemma Hayes is not only the greatest new talent of these last 10 years but the most radiant smile of all rock scene.
You may say I am a little bit too enthusiastic about her, but hurry and buy yourself her marvelous 'Night on my side' CD.
She just emailed me about a new song she is writing, inspired by the tone of the MERCER BOX.
Am I the lucky one ?
2005 news !!! : 'Lay Lady Lay', the duet by Gemma and Magnet, is featured on the new Official Soundtrack
for Angelina Jolie and Brad Pitt's new film 'Mr and Mrs Smith'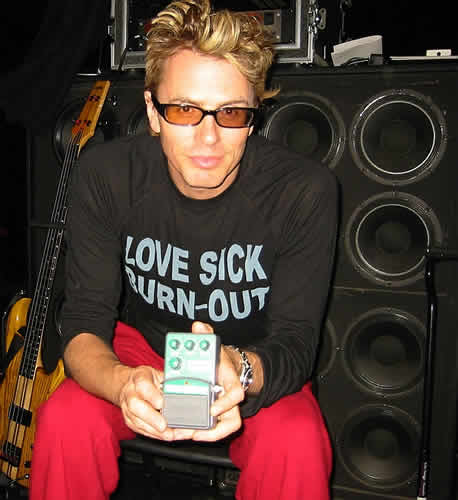 All that nights listening to 'Ordinary world' and now to see DURAN DURAN founder and bass player John Taylor holding
and playing my TUBEBLOWER… As incredible as it may seems, I learnt John had a TUBEBLOWER on his permanent pedalboard while surfing on the net ! This is only after reading this that Kevin and I contact him to take pics.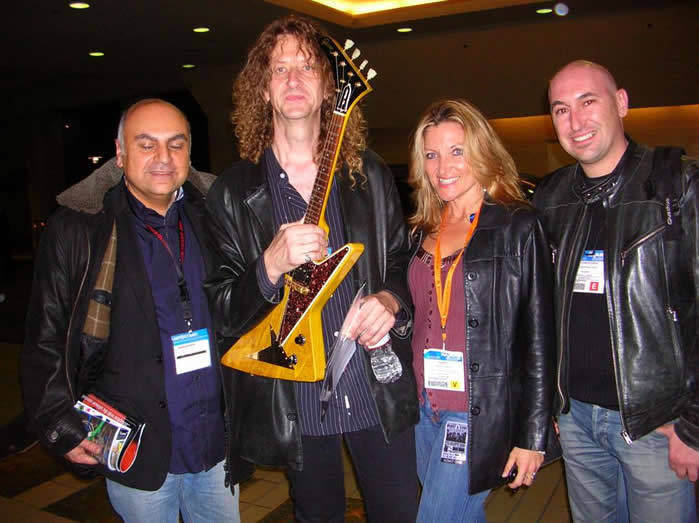 Maestro Alex Gregory is the inventor of the seven-string guitar and many other electric stringed instruments–mandolins, mandocellos, and more. Now, he has invented the Pentasystem, a methodology which advocates the tuning of electric instruments like classical instruments–in fifths, and having five strings for perfect mathematical symmetry. Not only is the Maestro a designer/inventor of instruments, he is also an extremely gifted composer and player. So it is an honor for me that he has become a all-mercer maestro !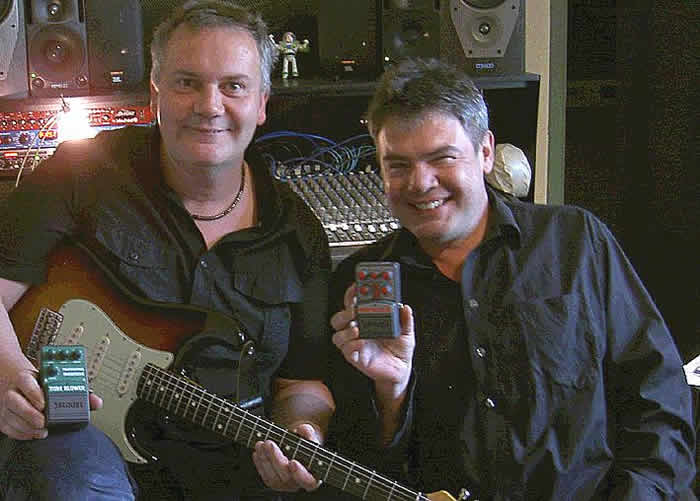 Well, everytime I sell pedals in Japan through my pals at Fernandes guitars, I think about the 'Big in Japan' song.
So it's a real pleasure for me to show you Alphaville's Singer Marian Gold and programmer Martin Lister in the Studio using the Tube blower and Mercer box, during recording of new material for the next Album.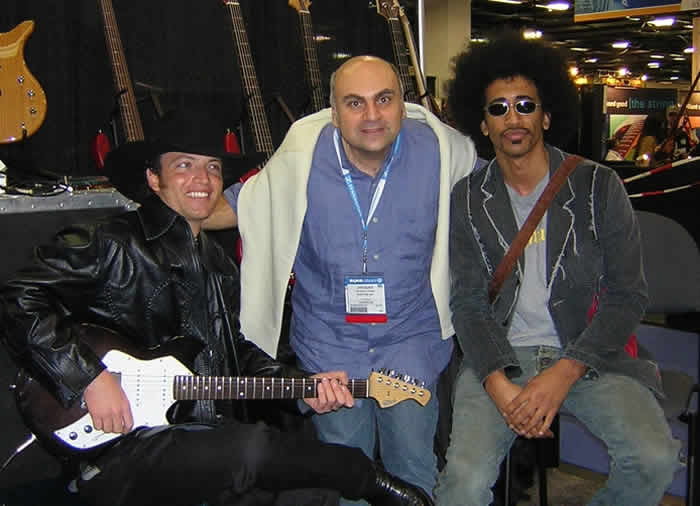 One nice pic from NAMM 2005 : Michael CHARVEL, yours truly & Alan EVANS from Soulive.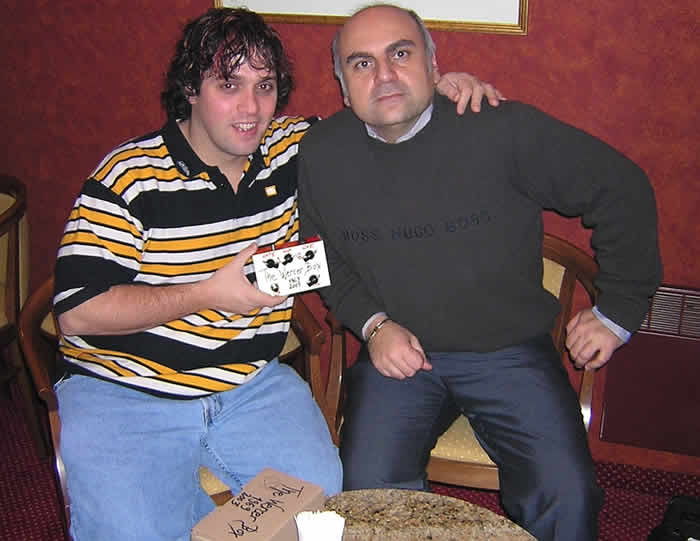 Cannes MIDEM 2004 : Jacques meets Chris Cox , one of the most talented producer of our times . Chris have worked with Madonna, Whitney Houston — he is the one who made 'It's not right but it's OK ' –, J. Lo, Christina Aguilera, etc … and is currently nominee at the 46th Annual GRAMMY Awards Final Nominations List Field 2 — Dance Category 12 / Best Dance Recording for ' Love One Another ' by Cher, Chris Cox, Rick Nowels & Wayne Rodrigues, producers; Manny Marroquin, mixer [Warner Bros. Records].
Chris is not only a magical dance music producer but a rock fan too, guitar player and noise maker and this is why he got himself a WERCER Box for more noise in his wonderful sounds. Best of luck for the Grammies, Chris !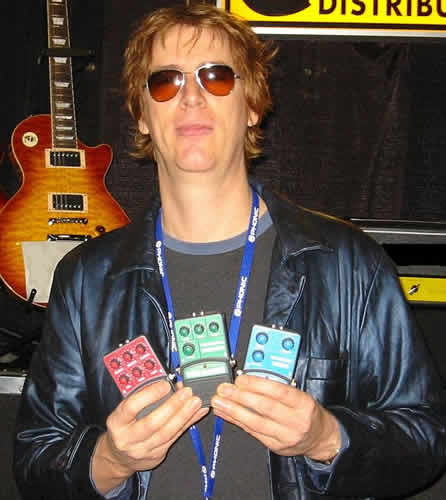 If Lyle Workman only credit was recording two albums with Todd Rundgren –"Nearly Human" and "Second Wind"–, this would be enough to consider him a legend in my book ('Healing' is in my all time top ten albums and 'Compassion' in my all time top ten tracks) . But Lyle has founded 'Bourgeois Tagg', recorded the incredible 'Purple Passages' solo album, joined Jellyfish, recorded and toured with Frank Black, and is now with  Beck .
It is weak a word to say proud, proud that such an already legendary guitarist like Lyle plays my pedals.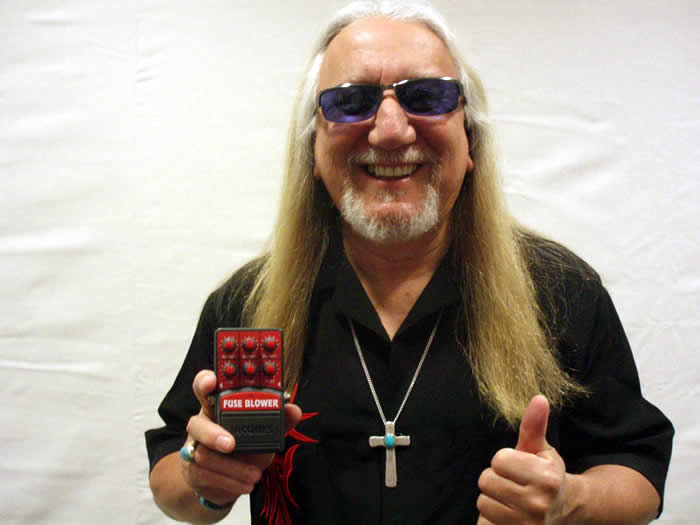 Uriah Heep's guitarist, Mick Box !