JACQUES COLLECTION OF WANDRE GUITARS

pictures and text copyright JACQUES PEDALS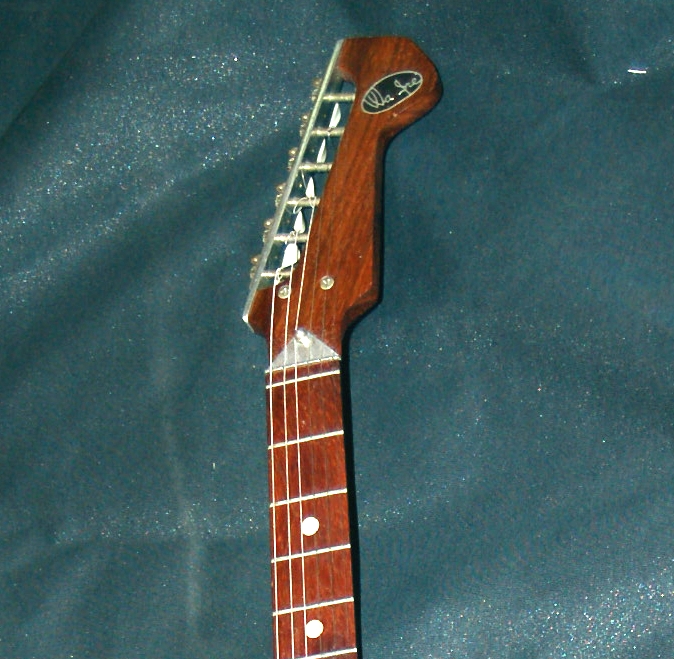 Wandre Pioli (Pelotti is often quoted but is incorrect) really was a precursor in the guitar design.
Not only predating any other attempt in  aluminium necks , this genius could not help to be radically different
technically and aesthetically. Playing a Wandre, under his own name or under numerous other brand names such as
Framez or Davoli, is really a completely new experience, even if these guitars were manufactured more than 40 years ago.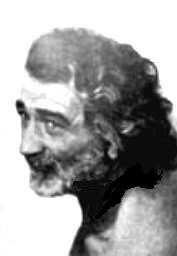 SOME CORRECTED HISTORY…
Most books present Mr Wandre as a motorbikes manufacturer who decided one day to make guitars using his technical knowledge, and this genesis would explain the weirdness of the Wandre guitars.
This is totally wrong.
Born June 6th 1926, Antonio Pioli learned the beautiful art of luthery in his father workshop, a reknown luthier.
This succession took place in Cavriago, Reggio Emilia, Italy. We are at an hour driving distance from Cremona,
the cradle of human luthery, the home of Stradivarius.
Nicknamed "Wandre" by his father —which means 'go in reverse' in local Reggio slang—because of his eccentricity,
Antonio Pioli was a pure juice luthier, familiar with ancient and classical fine art of making resonant instruments.
He only wanted to make the guitar a better instrument. He constructed a factory in his hometown at his own standard:
to rationalise the manufacturing process, he built a round building to allow interactions of the multiple stages of the fabrication.
A well ahead industrial idea at its time, while quite at the right place, Northern Italian industry was then enjoying a peak of prosperity.
His first task was to find a lasting solution for wrapping necks. Italian woods are extraordinary for tone but
not as hard as American maple, and Italian guitars often suffer from bowing necks.

This is a back view of a Wandre neck. A broom stick of aluminium with a wooden finger board glued on it.
To avoid the cold sensation of the metal, a simple adhesive tape is applied along the neck.
While strange at first , these necks are very comfortable and every one of them is perfectly straight.
You can adjust the tilt of the neck ultra precisely because it is mounted on a hinge secured by two screws you can see at the heel. With all this , you adjust your string touching-fret-bottom-low with no buzz. Not bad for an economic '60s guitar!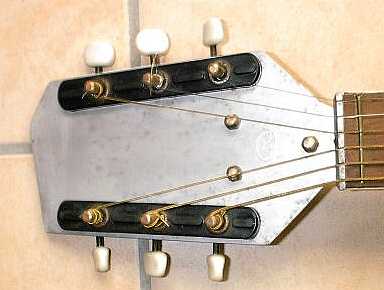 This a close view of the peg head, firmly screwed to the neck on three points.
Here we have a very nice angle with no risk of breaking it : the peghead/neck junction is a solid block of aluminium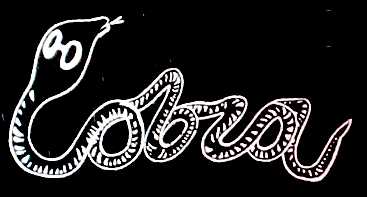 Here is the most exciting piece of my wandre collection: the mighty cobra !!!
This is the 1st model and believe me and INCREDIBLE guitar.


First, the cobra is really a joy for the eyes, its design being both classic and innovative in terms of color, shape and layout.
Second, the playability is extreme, let say better than a well set Japan RG Ibanez, which is not a small feat.
The aluminium neck is perfectly straight and the great frets allows ultra-low setting with no buzz nowhere.


But , the main originality of the cobra is of course its reverse bridge.
The reverse bridge is some kind of a legend for wandre aficionados, and to see it –and hear it– at last really is a great honor for me. Most people talk about a cythar-like tone given by this device: this is not true at all. The ringing resonance of the guitar is nothing nasal or metallic.
It is a shimmering delight, still present when you plug the guitar, because of the nice microphony of the davoli pick-ups.
Nevertheless, my cobra gives me some of the best jazz tone I can play,
proving that the low frequencies were not sacrificed on Mr Wandre innovation altar.
It is worth noting that the 2nd version of the cobra, aka cobra 2 , bears a standard bridge, making it much less desirable to my eyes, while a splendid beauty of her own.

The fierce headstock is no stranger to the guitar well-sustained tones and uncanny looks. Notice the usual 3 screws system.

To end the cobra article, here is a nice view of its bamboo-mysterious-india-located-movies-green-radical-sunburst finished back.
The vibrato system remains quite obscure for me. All I can say is that this black metal prong contains some kind of spring.
Mr. Wandre really did nothing like the other guitar makers.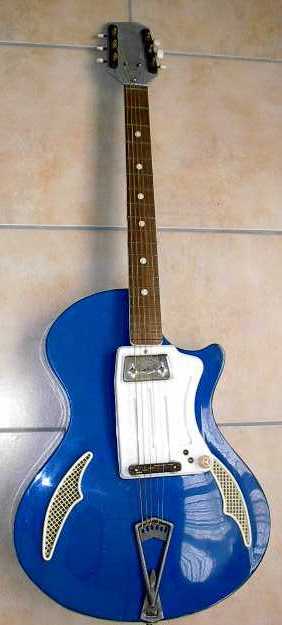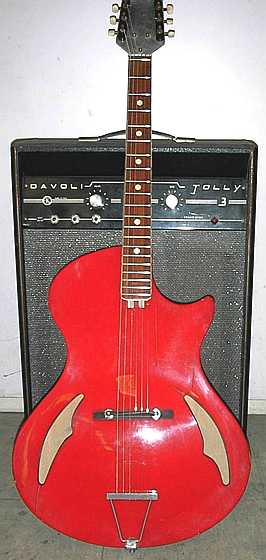 Here is my second hollow body Wandre lying on a fellow Davoli amp. It is the same guitar than the blue one.
The body is not as it is often quoted, in fiberglass.
It is pure Italian poplar with a heat arch top construction painted with a heavy glossy finish.
What is funny about the amp is that it says proudly "transistor" on its front plate but is all tube.
Just the opposite of the current trend !!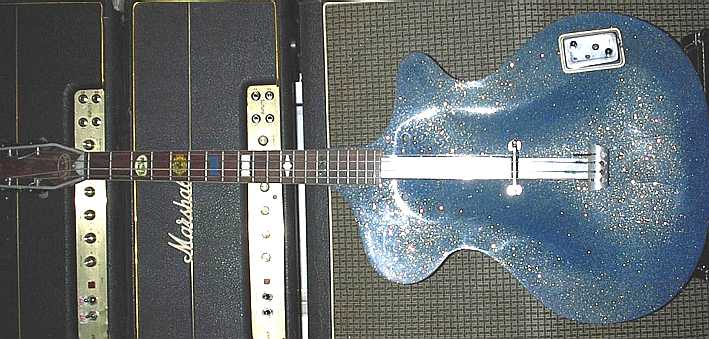 Here is a very special semi-acoustic electric bass. The shape is somehow similar to the my guitars, while this instrument bears a beautiful sparkling lake placid blue finish. The construction is different too: it is the n°2 type wandre neck through, a massive aluminium device with sliding bridge. The pick-up is missing.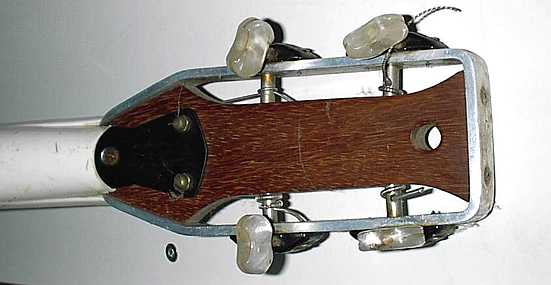 You can see here that this type of neck is more sophisticated, bearing an exotic wood insert, mother-of-pearl pegheads, and complete induction of the cold aluminium neck in some classy ivory white plastic , with a very nice feeling.

  This is the strangest thing about this bass: each fingerboard inlay is different. And the last one is more often found on EKO guitars. No clue why such a complicated work was done on this bass. Before leaving, please notice the exquisite wandre peghead aluminium inlay on the wood insert.

Here is my newest acquisition : a baby blue wonderful fulcrum neck with the strat like head. This means the strings are only supported by the aluminium structure, and that the hollow body is just assembled on this for tone, ergonomics and looks.
The weak small pick up seems original , but this wonderful axe would disserved a better medium.

Here is a side view that helps to imagine the guitar in 3D. Note the curved back and perfect action, once again !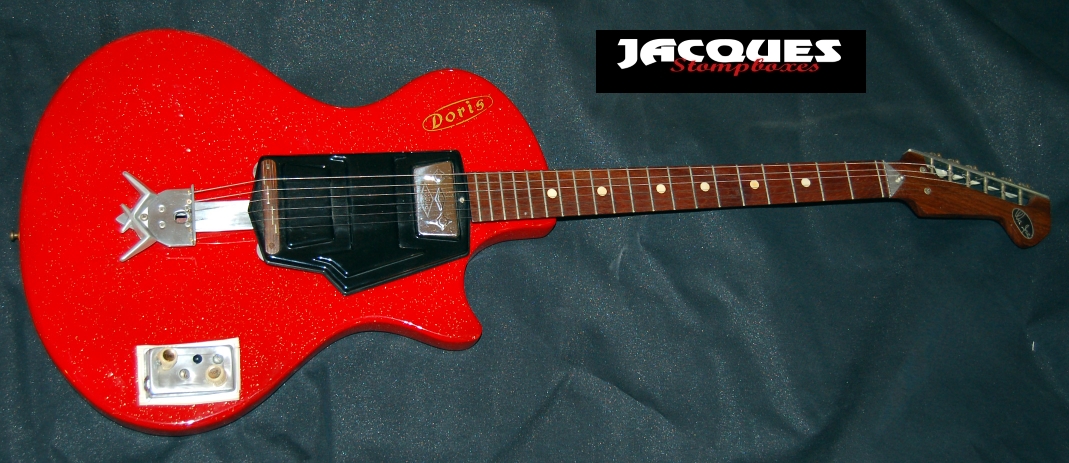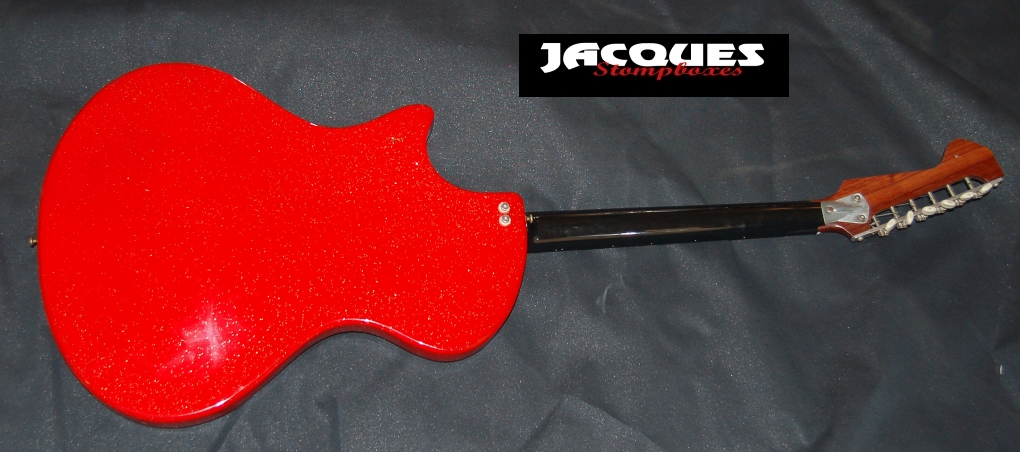 Here are some more WANDRE guitars :
First a very rare plain style DORIS . I have heard the name came from a French woman he kind of fancied.
You can only admire the delicacy of the sparkle red finish and the exquisite exotic wood head. I wonder if the Then another COBRA, with a very nice orange hue.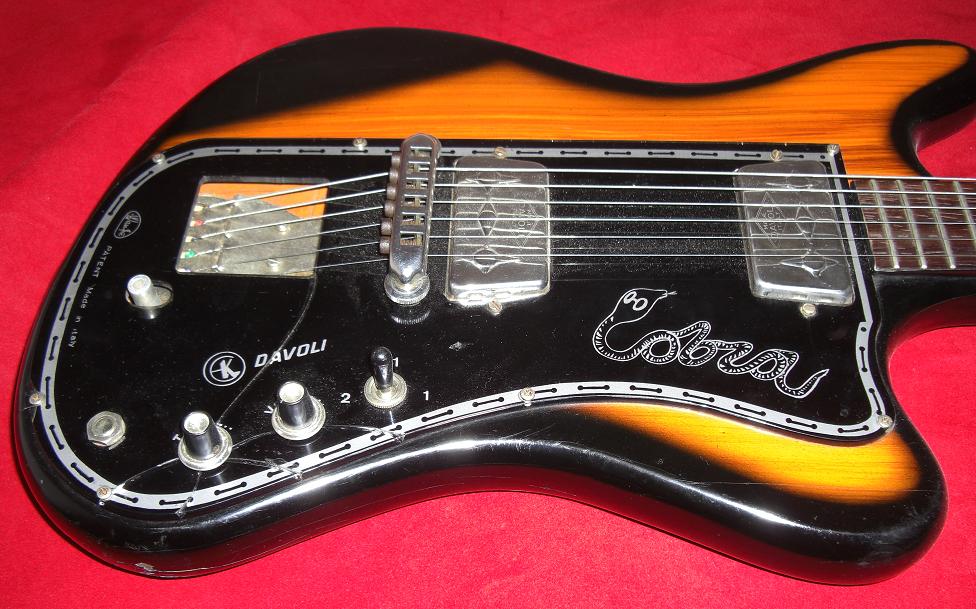 And last but not least, a ROCKOVAL , in poor condition, with a –I guess– non-original stars and stripes painting . I know Mr.Wandre did make some very unique custom paintings but the style was quite different, involving romantic birds and trees.